What is A1/A2 Milk?
A2 milk is cow's milk that mostly lacks a form of β-casein proteins called A1 and instead has mostly the A2 form. Cow's milk is about 87 percent water and 13 percent solids—the solids being a combination of fat, carbohydrates in the form of lactose, minerals and protein. The major component of the milk proteins is casein; in turn about 30-35 percent of the casein (equivalent to two teaspoons in a litre of milk) is beta-casein, of which there are several varieties, determined by the genes of the cow. The most common of these variants are A1 and A2. The percentage of the A1 and A2 beta-casein protein varies between herds of cows, and additionally between countries and provinces. Whereas African and Asian indigenous cows still manufacture only A2 beta-casein, the A1 version of the protein is common among cows within the western world. The A1 beta-casein sort is that the most typical sort found in cow's milk in Europe (excluding France), the USA, Australia and New Zealand.
What Are A1 Cows?
Those cows whose milk contains A1 type protein are termed as A1 cows. The widely spread Holstein Friesian (HF) and Jersey cows produce A1 type milk.
What Are The Benefits Of A2 Milk?
Milk derived from Desi cows is good for the body, mind and soul. Milk is an important source of calcium, protein & fat. A2 milk is the natural milk from our Desi cows which is easy to digest and helps increase immunity, it is so called "stomach - approved" milk and helps fight various diseases. Some people have had the experience that their digestive problems, diabetes, cholesterol issues, etc have disappeared from changing to A2 milk.
What Type Of Cows Produce A2 MILK?
Cows have been domesticated for time immemorial. Mother nature wisely selected breeds of cows suitable for a certain region. Human intervention has led to the current crisis where native breeds have been completely ignored or wiped out. Traditional Indian breeds like Gir, Sahiwal, Red Sindhi, Tharparkar, etc are less prone to diseases & have higher A2 protein content in their milk.
How To Identify Indigenous (Desi) Breed Of Cows?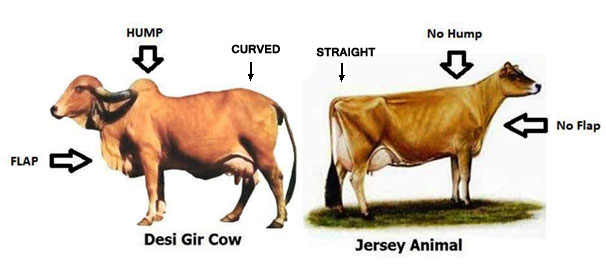 Desi cows have a distinct hump, curved back and a flap on the neck while HF/Jersey cows do not. This is the easiest way to identify a Desi cow.
How it works?
Step 1: Collecting Milk Directly From Farms
We have shortlisted few farms who cattle only Desi cows and maintain healthy conditions for them. We select farms after various inspections of the hygienic condition of the farms and health conditions of the cows. We keep a stringent check on the cattle quality, fodder and processes at the farm. Samples of our milk are regularly checked for any trace of chemicals, pesticides or toxins. Once we feel no check point is missed, we procure milk directly from them.
Step 2: Pasteurization & Packaging
After collection the milk is been transported to our processing plant at the earliest to maintain the quality of raw milk. We pasteurize the milk with our advanced machines to provide best quality milk and other products without getting the nutrients killed. The milk is then packed in a biodegradable Poly pack and made ready for delivery.
Step 3: Delivery
The milk is packed below 4 Degrees to maintain the nutrients and freshness of the milk. The same will be delivered every morning.
Step 4: Test Reports
The milk available in the market is typically checked for FAT/SNF content and adulteration. Apart from these we also conduct some complex tests on hormonal and pesticide residue presence in the milk. These tests will be done on regular basis and the test results will be shared with the customers time to time and will also be published on our website.